Goodwill
At Daladräkt we feel it is important to give something back. We achieve this by supporting, and collaborating, with organizations that are working for a good cause.
For every product we sell we donate 1 US Dollar to Childhood.
Livslust in Latvia makes many of our beautiful garments.
We work actively towards sustainability when we choose our materials and suppliers. Small family-owned companies situated in Dalecarlia make many of the details on our costumes by hand. They have made weaves and brooches in the same way for generations. Our garments are quality-made, meant to last for a long time. We believe in working against over-consumption and towards slow fashion.
World Childhood Foundation
Every child has a right to have a childhood, to security, happiness, playfulness and a curiosity in life. Everyone has a right to grow up and develop both socially and mentally. The World Childhood Foundation aims to secure every child's right to this and to work for better living conditions for children growing up in socially deprived areas of the world.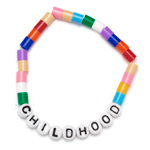 Livslust
The Livslust Foundation (Swedish for "Joy for life") is an independent private organization. They have built up and run a unique vocational school in Latvia for young people who are at the risk of ending up as social outcasts. The goal is to give their students an opportunity to become integrated in society. Most of the students live at the school during their studies. In the safe environment of the school each and every one can discover their own talents and develop interests of their own